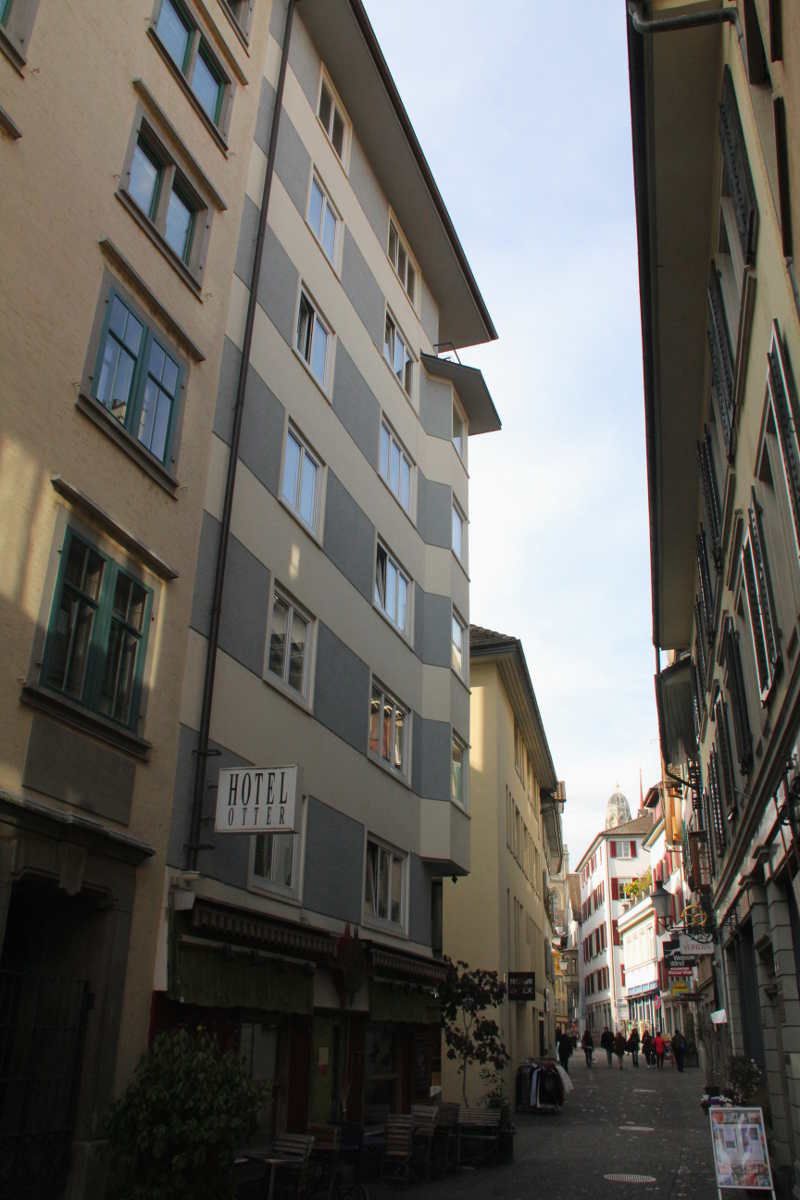 Great hostel in the heart of Zurich with a trendy café-bar where you meet locals as well as other travellers. The former Hotel Otter changed recently into a hostel right in the old town of Zurich. The hostel is above the Wueste, a trendy café-bar. The upper floors remain with the previous hotel standard, whereas the lower floors changed into dormitories. The private rooms keep the same services as at the former hotel times with the additional use of the common room with its kitchenette and lockers.
If you are used to stay in dorms, you will appreciate the central location with the possibility to have a great night at the bar and meet many people – locals as well as other travellers. The tourist sights are all within walking distance from the hostel. The Lake of Zurich is just 200 meters away. Although the art museum and the opera house are only five minutes walking distance and the legendary Café Odeon is just around the corner.
The hostel offers 45 beds at the Oberdorfstrasse that leads through upper part of the old town. It offers 7 dorms and 8 private rooms for moderate prices. There is a small kitchenette with a microwave, fridge and oven to prepare some small food. Included in the price is the breakfast: dorm beds get a basic self-service breakfast in the common room (toast, cereals, jam, margarine, instant coffee, tea, orange juice and milk), whereas the private rooms get a breakfast-buffet (different bread, meat, cheese, jam, butter, boiled egg, coffee, tea, orange juice) at the café bar. Free tea and instant coffee 24 hours in the common area.
Click here for online reservation!
Luggage storage before check-in and after check-out is possible in a lock in the common room on the 2nd floor
**Please Note*
Check-in 15:00 – 22:00 after you can check-in until midnight in the attached Wueste-Bar
Check-out until 10:30
breakfast 07:30 – 10:30 / Sat & Sun 08:15 – 10:30
No curfew for checked-in guests
Quite-time after 22:00 in the dorms
No alcohol in the dorms
free luggage storage on the day of arrival / departure
Das Oldtown Hostel Otter ist ein neues Hostel mitten in der Altstadt von Zürich. Aus dem früheren Hotel Otter entstand das neue Hostel. In den oberen Stockwerken bleiben die individuell gestalteten Privatzimmer während sich in den unteren Etagen die 4- und 6-Bettzimmer befinden. Die Gäste in den Privatzimmern haben den gleichen Service wie vorher im Hotel und können zusätzlich vom Aufenthaltsraum mit Kochnische und Gepäckaufbewahrung profitieren.
Gäste, die öfters in Hostels schlafen, schätzen die zentrale Lage und die dazugehörige Café-Bar "Wüste" im Erdgeschoss um Einheimische sowie andere Reisende kennenzulernen. Die Sehenswürdigkeiten von Zürich sind in Gehdistanz vom Hostel und der Zürichsee ist nur gerade 200 Meter entfernt. Das Kunsthaus, sowie das Opernhaus können bequem in 5 Minuten zu Fuss erreicht werden. Auch das legendäre Café Odeon ist nur um die Ecke.
Das Hostel bietet 45 Betten an der Oberdorfstrasse, welche die Fussgängerzone am oberen Ende der Altstadt ist. Es werden sieben Mehrbett- und acht Privatzimmer für einen günstigen Preis angeboten. Im zweiten Stock hat es einen Aufenthaltsraum mit einer kleinen Küche, die Mikrowelle, Kühlschrank, Wasserkocher und Backofen hat um etwas Kleines zum Essen zuzubereiten. Tee und Instantkaffee können dort den ganzen Tag gratis getrunken werden.
Im Preis inbegriffen ist ein Budget-Frühstück für alle im 2. Stock (Toast, Konfitüren, Corn-Flakes, Müesli, Instantkaffee, Tee und Orangensaft), bei den Privatzimmern gibt es ein Frühstücks-Buffet in der Café-Bar (verschiedenes Brot, Fleisch-Aufschnitt, Käse, Konfitüren, Butter, ein gekochtes Ei, Kaffee, Tee und Orangensaft).
Es stehen ebenfalls Schliessfächer im Aufenthaltsraum im 2. Stock zur Verfügung, wo das Gepäck vor dem Einchecken und nach dem Auschecken gratis deponiert werden kann.
**** bitte beachten ****
Check-In 15:00 – 22:00,
Check-in in der Wüste (Café-Bar) bis Mitternacht und wenn die Rezeption nicht besetzt ist.
Check-Out bis 10:30
Frühstück 07:30 – 10:30 / Samstag & Sonntag 08:15 – 10:30
Mit dem Schlüssel 24 h Zutritt zum Hostel
Nachtruhe ab 22:00 Uhr
Kein Alkohol in den Mehrbettzimmern
Gratis Gepäckaufbewahrung am Anreise- und Abreisetag